ESG - SUSTAINABILITY AT THE FOM REAL ESTATE GROUP

Sustainability and returns are not mutually exclusive, quite to the contrary in our view. Sustainable investment strategies have a positive influence on investment performance. For us, sustainability means investing responsibly and conscientiously while minimising negative effects on the environment and society. Ecological, economic and social factors determine the sustainability of real estate.
The FOM Real Estate Group stands for long-term value creation in the area of future-oriented real estate. At the same time, besides economic success, we also want to meet our responsibility towards our employees and business partners, society and of course the environment.
ESG rules and the wide range of regulatory requirements have a fundamental effect on the value creation chain. They impact both companies and products. The implications for the development and organisation as well as the policies of the FOM Real Estate Group are accordingly extensive. We take our responsibility seriously and actively uphold this duty in asset allocation based on clearly defined criteria.
The new ESG regulations not only affect companies with "explicit" ESG products on the market. Every company is required to deal with the topic and thus derive individual measures. The following ESG standards have been defined for the FOM Real Estate Group.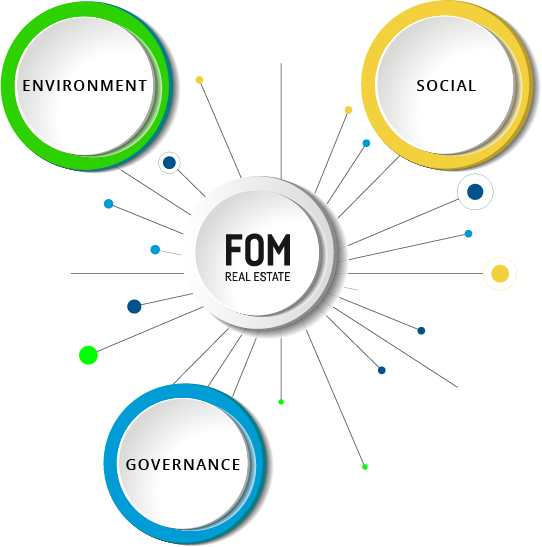 Environmental
The E in ESG focuses on the efficient use of resources, handling of emissions and ecological efficiency. For instance, this includes soil contamination or emissions as well as considerations regarding energy and resource efficiency, dependence on natural resources and/or the hazard potential in the event of natural catastrophes.
The FOM Real Estate Group (abbreviated to FOM in the following) sees environmental protection as a key factor for sustainable value creation – for the investment management company, its assets under management as well as society. FOM's approach involves handling environmental risks and opportunities as effectively as possible. This is enabled by the gradual integration of sustainable, ecologically oriented processes in all business matters as well as the reduction of direct and indirect environmental impact. FOM endeavours to act in harmony with our environment in all business activities and to make an important contribution to protecting and maintaining the environment.
We provide an active contribution to improving the ecological and carbon footprint of our portfolio with our project developments.

We improve the efficiency of our existing real estate as part of active asset management.

We promote digital technologies and innovative business models to protect resources and increase the benefit of our real estate.
Social
Social and ethical conduct is a matter of course for FOM and its employees. We consider social and ethical conduct to be the trusting and respectful treatment of business partners and employees without prejudice or discrimination.
We create an inspiring and modern working environment for our employees and promote an appreciative company culture. This is why the average length of service here is almost 10 years.

We promote the training of junior professionals and offer students in the field of real estate attractive opportunities as working students and interns. Numerous executives at the FOM Real Estate Group are engaged as lecturers and professors at various universities.

Besides their work as professors and lecturers at universities, the Managing Directors of FOM are involved in additional social, church and other institutions, foundations and associations, for example as:

Synod of the Evangelical Regional Church
Deputy chair of the advisory board of a diaconal institution of the Evangelical Church
Foundation board member of an Evangelical parish foundation
Founding member of a Heidelberg-based service club
Senator of the Senate of Economy Europe
Chair of the Advisory Board of Heidelberger Volksbank
Member of the legal committee of the German Association of Chambers of Industry and Commerce
Competence Group Leader at the Society of Property Researchers, Germany (gif)
Governance
When developing and managing our products and services, we aim to achieve sustainable growth and long-term economic success. As an owner-run company, we act as a fair, transparent and trusting partner.
For our stakeholders, we realise attractive, modern and efficient properties according to the latest standards.
We uphold the interests of our investors in the management of the capital entrusted to us.
We attach great importance to fair and sustainable collaboration with our business partners, with whom we have been cooperating on a trusting basis for many years over multiple projects.
In terms of asset allocation, we respect an internal catalogue of ESG questions and incorporate the result into our investment decisions.
Countering sustainability risks
FOM counters sustainability risks both in property acquisition as well as property management. Here we always orient ourselves on the "BaFin information sheet for handling sustainability risks".
When taking investment decisions, we consider the sustainability aspects of the property offers as part of the purchase review process. In order to valuate and measure sustainability topics, we work with renowned partners, for example when conducting ESG due diligence. Besides the property consumption data (energy, water and carbon), the main negative sustainability effects also include the industries of the tenants.
Portfolio management is subject to ongoing monitoring in relation to ESG parameters and the EU taxonomy. Property development complies with our FOM ESG strategy. The main parameters are controlled by fund management and monitored by risk management.
Consideration of sustainability risks in remuneration policy
The remuneration policy of FOM is not affected by sustainability risks.
Weitere Angaben gemäß Offenlegungsverordnung (PDF / German)
Nachhaltigkeitsbezogene Offenlegung gemäß Artikel 10 der Verordnung (EU) 2019/2088 (Offenlegungsverordnung) / German